How to Enter the World of Community Theatre in New Jersey
A guide on how to enter the world of Community Theatre in the New Jersey area.
So you decided to click on my article because you're new to community theatre or have a kid interested in the arts of community theatre. I humbly thank you either way.
Today's introductory post from me, an expert of sorts in the world of theatre,  will be about the various theatre opportunities I see in the local New Jersey area, with some New York theatre stuff thrown in here and there. This guide will cover the following:
Where to start?
When should you start?
Is there anything that can stop you?
Opportunities in the New Jersey area
What should you put on a theatre resume?
The audition process
The call(backs)
The show rehearsal process
The Tech Week
The Opening Night
Where to Start?
The best place to start these days is in New Jersey Middle schools. Most times, Middle schools will expose students to the theatrical arts by either taking some classes to a high school production (I know this from having gone through this in my  8th grade experience), or going because your older brother has a notable part in it. (I also have been through this with my older brother in Othello in 2007/2008).

If Middle School isn't an option, then try High School. High school gives you generally more free time to try out clubs like the theatre and improv clubs, and they offer Theatre classes. (I know this from having taken 3 years of High school theatre classes, from Sophomore year to Senior year.) They also have stage crew, ushering, and ticket sales positions, but we'll cover those later in the article.
If you're really passionate about theatre, though, you can start at anytime, via any device these days due to smartphones and whatnot. I know this from seeing a musical group whose singer and writer is 102 years old on the news yesterday.
When should you start?
As I mentioned previously (Just above, actually!), you can start at any point, really. I know this based on the wide range of ages of the various people I worked with at the local Main Street Theatre group 5 minutes away from my house.
Generally, I see people start in high school or middle school and then go on up from there. Some of my friends moved on to Montclair State University, or Rutgers, or Kean University, or even cruise lines. Some even went on to national tours such as a national tour of RENT in one instance.
Is there anything that can stop you?
If there's anything that can stop you, it's 3 things. Those are: Age, physical disability/injury, and yourself.

Some roles in some plays  or musicals maybe more suited for people in their 20s.
(An example: A guy who looks in his mid 20s would most likely be portrayed by a male in their 20s if facial hair and/or beards make them look more convincing.)

Then, in Kid or Jr. shows, they'd specifically request younger people under the age of 13 or so (say, a 8-12 year old kid for a role in say, The Little Mermaid Jr., as an example) to play those roles with maybe one or two adult roles for the villains.

Physical Disability or injury can hinder some people. I've seen people with leg pain struggle to move properly on stage once or twice during my youth.(Local theatre, specifically). I should note that handicapped people with only one arm have made strides such as getting on Wicked or the Rockettes Christmas Spectacular, and theatre in general is doing its' best to be as accommodating as possible, but I figured I'd bring that up in-case someone asked in the comments.

And lastly, we have. . . yourself. If you're a defeatist and you take rejection hard, then you're your own worst enemy. I got rejected once for hairspray at my local community theatre organization. I cried, yes, but I moved on and found another opportunity to help with that production as an Usher.
Here's the thing: I get wanting to be perfect and feel like you're untouchable and immune from failure. I was there once. Guess what it got me in the end, though? It caused me disappointment, regret, misery, and it hurt not just myself, but others as well down the line due to my stubborn perfectionist attitude.
Opportunities in the New Jersey/New York area
I find that your town, wherever you live, usually has a good theatre group. New York mainly has Broadway, but other than that, I can't think of much else there.

New Jersey is superior in this regard due to having Kean University, Rutgers,  State Theatre New Jersey, Sayreville Main Street Theatre Company, Union County Performing Arts Center, and many more places to explore. They all accept volunteers, and some even have paid positions that can work as job experiences for your job list on your regular resume. Volunteer opportunities can also work out especially well for your resumes (Both regular work-related and Theatre resumes).
What should you put on a theatre resume?
On a theatre resume, in the header, you should put pictures/logos representing the organizations you worked with as well as your name, phone, singing voice, email, and then in the body, you post a head shot in page 1. On page 2, you make a column list of your various roles in shows and events in your local community theatres.

It would look something like this: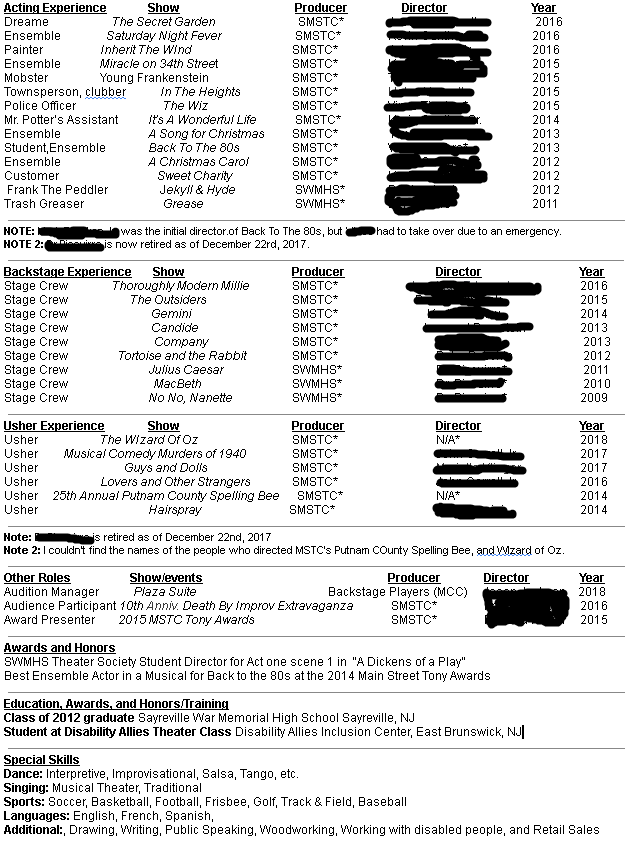 I'd also list special skills like Woodworking, various dance styles, sports, etc.
The Audition Process
So the time has come to audition for whatever show you wanted to try for. Depending on the theatre, you'd have to show up with dance shoes on, proper attire, your resume, and show up with all of that an hour or few early  depending, again, on the place-in-question.
For a play, read either a monologue of your choice, or a scene from the show you're auditioning for. (I recommend the 2nd option personally, as you show to the casting department that you know what these characters are like.)

For musicals, you're expected to wear dance shoes due to being called upon after your musical audition to dance a number from the show. For the musical number, pick 16-32 bars of a Broadway-style song or even a song from the show depending on both the show and theatre you're going for.
This process shouldn't take more than an hour or two. On the applications, should you get one, be sure you can manage attending all of tech week and each performance. I counted a few times where people showed up DURING a performance and it was a bit distracting.
The Call(backs)
Once you've done that stuff, you'll be waiting for either a phone call, or be told straight up right then and there that you have been given a callback notice to attend a callback audition. A callback audition is an audition where directors and choreographers want to see more of your skills as a dancer or actor.
After that, you then wait for )hopefully) THE phone call that tells you that you got into the show.
The show rehearsal process
So you made it into the show, you say? Congrats! Now, the rehearsal process begins. Generally, a show starts with an introduction night that introduces your fellow cast members, and describes the plot of the show as well as - if applicable - the numbers in the musical. They also describe who got which part as well in case you forgot during the phone call they sent you.
From there, you do one or two scenes/pages at a time. each night. Eventually, we get into being measured for costume sizes (for the upcoming tech week rehearsals). Then we start combing the scenes together into longer stretches of practicing both blocking, musical numbers, pitches, tones, etc.
The Tech Week
The Tech week part is the week of the performance usually. It's when cast photos are taken (usually Wednesdays), costumes and makeup are applied, and the rehearsal become full-fledged practice runs of the show-in-question, leading us all the way to...
Opening Night
With all of these tips, you made it to opening night. This is where we wrap up, right? No. Most theatres do a pep-speech before each performance. You're now expected to show up an hour and a half earlier than the performance time. (6:30pm for Friday and Saturday shows, and 12:30pm for Sunday shows at SMSTC, for example).  
Now, think of Opening and Performance nights/days as dress rehearsals except they're in front of a live audience this time, with ushers and whatnot in the audience helping out as well, and you should (hopefully) be good.
The Conclusion
So with this lengthy guide in your head, I hope you're now inspired to keep going if you gave up after failing, or confidant about entering theatre due to the steps in this guide.
If you need any help or clarification,  or add any additional tips and advice I may have missed, please feel free to comment below or reach out through Twitter